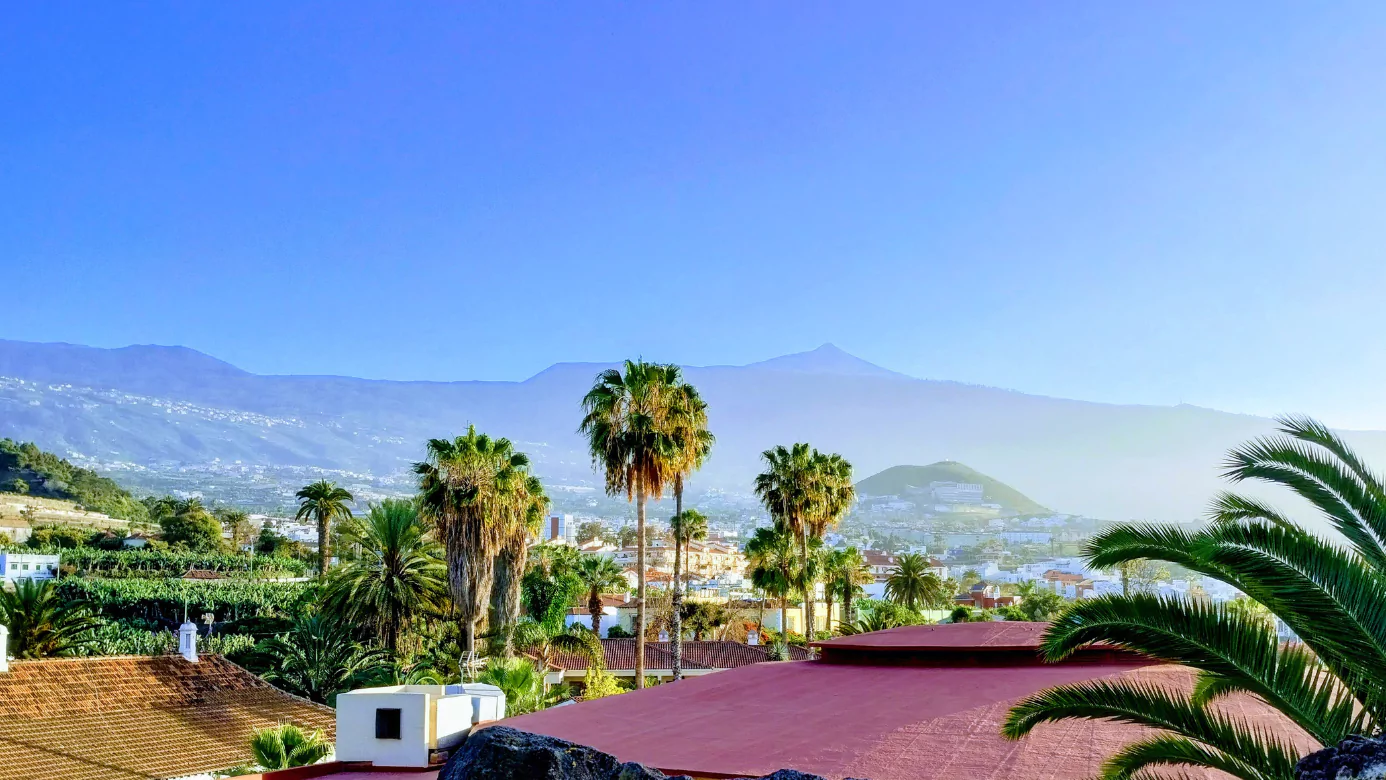 Overworked and Stressed? You are Not Alone.
Updated 24 Aug
According to a 2022 report by the European Agency for Health and Work, 4 out of 10 remote workers feel stressed and overworked.
40% of remote workers are on their way to burnout.
If you're reading this, there's a chance you're one of them. But don't worry, we have a remedy.
Hello there! I'm JC, co-founder of Nomad Cowork.
Five years ago, I was in your shoes—swamped with work, stressed out, and feeling disconnected from myself and others.
I was battling burnout.
Three years into it, I traveled to Tenerife and I found something that started to shift it.
I discovered that human connection, nature, mindfulness, and movement were the keys to overcoming it.
I became more balanced while feeling better than before!
Now, I'm eager to share this with you, condensed into an unforgettable 9-day experience.
Dive into a 9-Day Relax, Rebalance workation in Tenerife, set in a beautiful century-old Spanish villa!
Imagine waking up surrounded by the serene landscapes of Tenerife.
Begin your day with rejuvenating Breathwork & Yoga and then coworking in your dedicated space.
Then, venture into the city. Discover the hidden gems of Puerto de la Cruz and connect with the Nomad Cowork community.
On weekends, discover nature with a carefully selected guided tour in the Anaga Mountains or simply take time for yourself on a beautiful beach or nature trail close by.
Our meticulously designed workation combines coworking, mindfulness, human connection and nature. It promises not only a change of scenery but a change of state of wellbeing.
In just 9 days, embrace a harmonious blend of mindfulness, work, and play.
Why Join Us?
🧘‍ Rediscover Balance: Set boundaries and rediscover the joy in both work and leisure.
👥 Connect with Like-Minded Individuals: Network, and form lifelong friendships with fellow professionals.
🍃 Immerse in Nature: Allow the captivating landscapes of Tenerife to refresh and recharge you.
🎯 Balanced Work & Play: Achieve productivity without compromising on relaxation and enjoyment.
Are You Ready to Embrace Balance?
Keep on reading!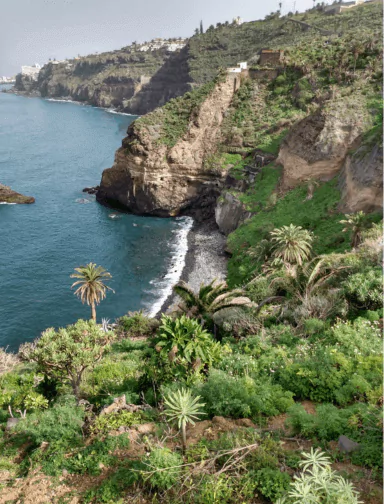 9 days with the perfect mix of mindfulness, work & play.
I have identified 6 perfect ingredients to get you to feel balanced & productive.
Revitalize your mind and body. Find your inner balance with our mindfulness sessions. (6)
Explore lush greenery, beautiful beaches, and awe-inspiring mountains. (2)
Welcome dinner and beyond. Meet fellow remote workers. Get access to events and networking activities. (2)
Discover Puerto de la Cruz
Discover Tenerife's charm. Embark on city explorations during your free time and with our planned guided tours. (1)
Work in a fully equipped coworking space designed for productivity and creativity. (24/7)
Shared Colonial Spanish Villa
Live in a shared accommodation in a stunning villa within walking distance to the beach and city.
Feel back in balance like her:
Working remotely from Tenerife is a life-changing experience!
At least for me :) I came here overwhelmed, overworked, and stressed, and now I'm living a life of peace and happiness 😊. Nothing magically changes on its own here, but Tenerife is a great place to recover your work-life balance, to figure out what's next in life, and to recharge your batteries. The weather, nature, amazing views, inspiring spiritual people, and all the activities you can dream of are certainly things you can be grateful for every day being here!
Enjoy breathwork & yoga sessions, amazing nature hikes and authentic human connection
Find balance with mindfulness, mountain vibes, beach chill, and authentic human connections.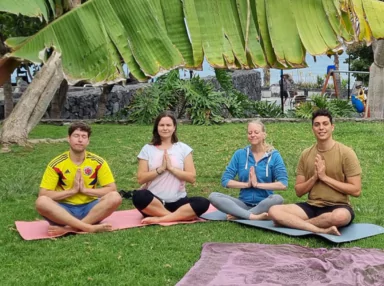 RELAX AND BALANCE THE MIND & BODY.
Stop feeling constantly "on" and overwhelmed. Delve into daily yoga and breathwork sessions to balance and calm the mind and body. These moments of mindfulness offer invaluable mental health resources, helping you to slow down, process emotions, gain clarity, and transition from a state of constant exhaustion to energized focus. Our instructors will be there to give you tools and strategies to keep mindfulness once you are back home.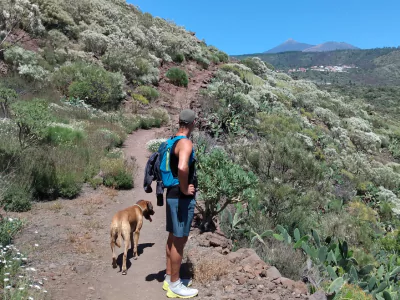 FEEL GROUNDED AND CONNECTED WITH YOURSELF & NATURE
Nature's therapeutic power offers an escape from the exhaustive state of stress. Get grounded in Tenerife's pristine landscapes to disconnect and recharge. The serenity of nature will help you find the elusive work- life balance, invigorating your spirit for the tasks ahead.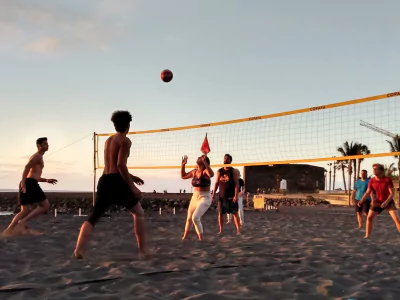 CREATE MEANINGFUL AND LONG-LASTING CONNECTIONS
Can't connect with others in the city? Pass loneliness by diving into the Nomad Cowork community. Engage in genuine interactions, form bonds with fellow remote workers, and forge friendships. Here, you'll find not just professional connections but a community that understands and supports your journey.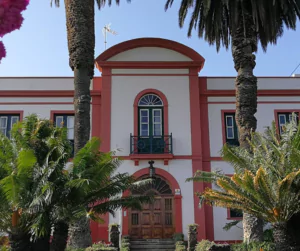 Beautiful Villa Entrance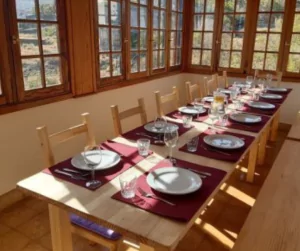 Cozy Dining area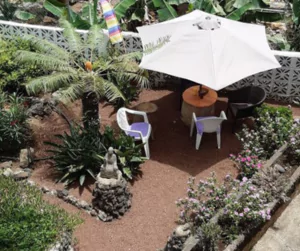 Open spaces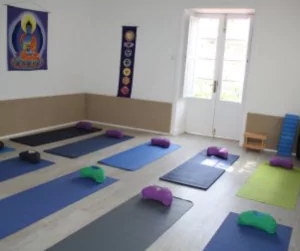 Mindfulness Studio
A PEACEFUL VILLA AMIDST VIBRANT TENERIFE
Meet Sol y Luna, your colonial villa
Nestled in the heart of Puerto de la Cruz, Tenerife, our century-old colonial-style villa, Sol Y Luna, awaits your arrival. Just a ten-minute stroll away from the bustling town center and the sun-kissed beach, our location promises both convenience and tranquility.
Why Sol y Luna?
Historical Elegance: Experience the charm of our 100-year-old two-story villa. Perfectly Located: While situated amidst a functioning banana plantation, offering you serenity, we're also close enough to the town for easy access to local amenities and community activities.
Stunning Views: The property boasts uninterrupted views of the town below, the vast expanse of the ocean, and the majestic Teide above.
Modern Amenities: Our villa features two spacious, fully-equipped kitchens—one on each floor—perfect for cooking classes or workshops.
Flexible Accommodation Options: Choose from a variety of sleeping arrangements. We offer three rooms designed in a dormitory-style accommodating up to 3 guests, two rooms with 2 twin beds, and one with a double bed. All guests share four spacious, well-appointed bathrooms.
HIGH-SPEED WIFI COWORKING SPACE
A space for creativity and colaboration
Inside our century-old colonial-style villa you'll have 24/7 access to a coworking environment. Benefit from super-fast internet and an unending aroma of freshly ground coffee. And when you wish to mix work with leisure, the villa's rooftop awaits, offering breathtaking views of the town and the vast ocean.
We've got everything you need to be productive.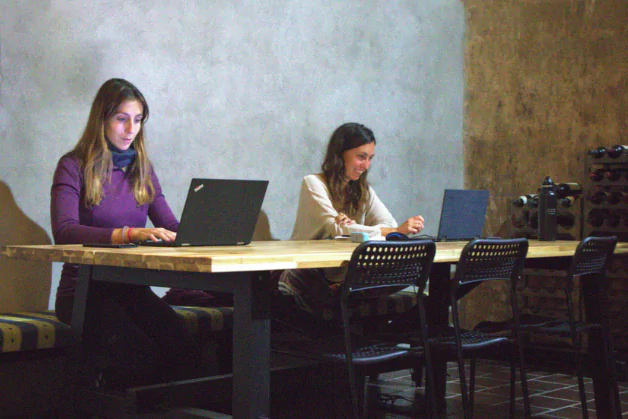 TENERIFE
Stay in Tenerife, Puerto de la Cruz.
Located in Tenerife North, Puerto de la Cruz is a sanctuary for relaxation, set amid valleys, cliffs, and the soothing sounds of the Atlantic. This town embodies tranquility, urging remote workers like you to wind down and embrace leisure. Every corner soothes the senses with echoes of the island's rich past and tranquil future.
As you explore its pathways, you'll meet others seeking serenity, forming connections through shared rejuvenation experiences of Tenerife. The town's serene offerings, from Playa Jardín to the Orotava Valley, beckon visitors to recharge amidst nature's embrace. With Mount Teide standing guard, the local cuisine and captivating sunsets amplify the island's tranquil ambiance.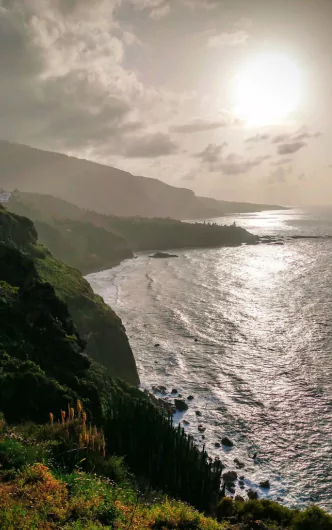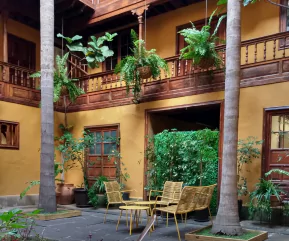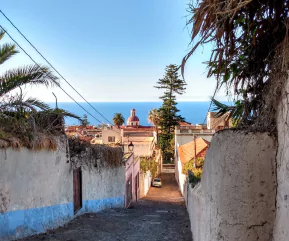 Feel productive & relaxed like her:
I decided to come to Tenerife to take a break
from the fast pace of living and the general routine of my life in a big city. Just being here, under this sun and in this amazing nature, swimming every day in the ocean, and taking things a little slower gave me a lot of new perspectives and inspiration for my work and life in general.
Join now and get up to 40% OFF in this relaxing workation!
Not Satisfied? Get your flight ticket refunded!
We believe in what we have created for you. If after attending all the activities we have lined up for you do not feel more relaxed than when you started, we will refund your flight up to €300.
Workation Team
Julia, your Community Leader, and Joana, your Professional Yoga Instructor, together ensure a seamless experience infused with Tenerife's hidden gems, remote work passion, yoga, breathwork, and genuine human connection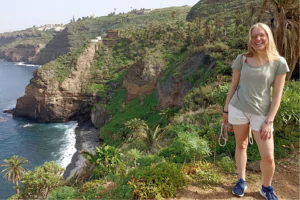 Frequently Asked Questions